Before, I didn't have the question of how to choose the best portable weld fume extractor. For a long time, I haven't even been thinking about welding fume extractor. And not long ago one of my buddies, a professional welder, who used to help me a hundred times with welding, started having serious problems with his lungs.
I understand that being an industrial welder, he is more exposed to welding fumes than I am; however, he strongly advised me to use a weld fume extractor any time, for any welding operation (I like to build solder project kits, I wrote a detailed review here).
By this moment I've read lots of articles about negative effects of the welding fumes on the human body and spent enough time looking for a proper device.
I tell you what, if you work in a small shop or you do weld in a garage and stuff like that, fume extractor is something you should be interested in.
Now I have two great tools: KOTTO Solder Smoke Absorber/Fume Remover/Smoke Extractor and Fume Extractor/ Solder 3-in-1 Welding Smoke Absorber.
The first one I bought and the second – I borrowed from my friend for test purposes.
Below is my short review of both of them. Let's have a look.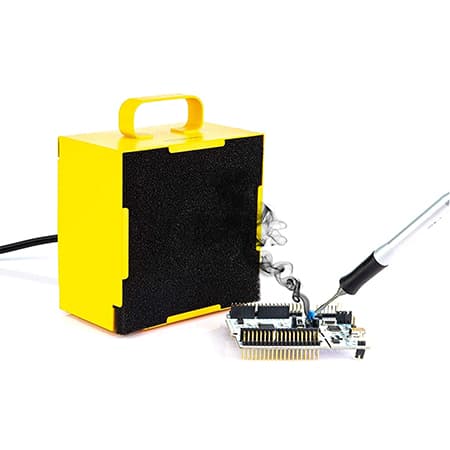 KOTTO Solder Smoke Absorber Remover Fume Extractor
Power consumption: 120V, 30W (50 / 60Hz)
Has 4 non-slip rubber feet
Check Price
This solder smoke absorber/fume remover is a pretty simple device that looks like a portable box size 5*5*3″ with a comfortable handle for easy transportation. Though its compact base takes up little space, the unit is rather powerful. It features 3,000 RPM high suction fan covering the area of up to 6 inches away. The unit has 4 non-slip rubber feet allowing the box stay firmly on any surface.
KOTTO Solder Smoke Absorber features two pieces activated carbon air filter designed to absorb and capture bad odors, harmful and toxic gases from welding operations, gases and chemicals. The filter is doing really well: after my first use of the device I noticed a tiny grey spot in the filter. And when it had a dusty look, I removed the used filter and install a replacement one.
I'm sure that this fume removal tool might be a useful addition to your workshop, and it offers a good value for money.
Pros
Solid design
Impeller provides great suction
Two pieces activated carbon filter
One replacement carbon filter included
Low noise
Durable steel frame
Non-slip feet
Easy to move and to clean
Cons
There are some complaints about the ground connection, loose grounding wire, to be exact. That's why I would highly recommend to check this ground connection before using the fan.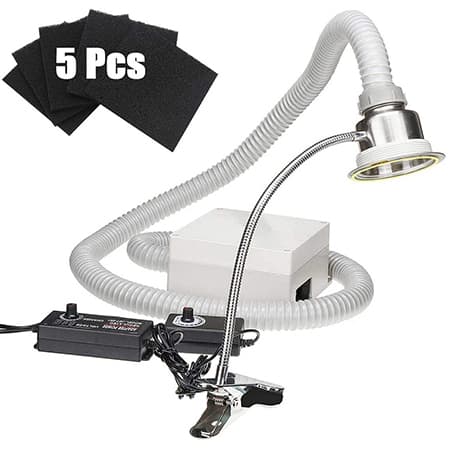 Fume Extractor Solder 3-in-1
Сomes with five pieces activated carbon air filter
You are not restricted in your movements
Check Price
The Fume Extractor Solder/3-in-1 Welding Smoke Absorber is one of the most sophisticated devices I've used in my workshop. This high-quality tool equipped with lighting, smoke absorbing and filtering gives you an opportunity to work in a safe, comfortable and healthy environment.
From my own experience: it's really very convenient to work with the tool equipped with 78 inches exhaust house and a LED lamp. You are not restricted in your movements. Moreover, due to the firm fixing clip you can clamp the hose with a LED light at any convenient place at your desktop and move it, when necessary. And, for the record, this LED lamp is an absolutely perfect function, making the device handy for any home hobbyist. And the brightness can be adjusted too!
Note: Designed for permanent installation in a work space, the box portion can be mounted below the table top or on the wall. The support arm for the tube with a metal clamp can be moved. It can be placed very close to the welding parts to extend extraction range and maximize air capture. Brightness and suction are adjustable!
This fume extractor comes with five pieces activated carbon air filter that should be installed in the smoke exhaust box.
I can assure you that you can count on it for a reasonably long period of time.
Pros
Compact and versatile
Hight-quality 3-in-1 tool
Includes a dimmable light which is very bright at max power
Adjustable brightness and suction
Perfect for DIY soldering projects, small repairs and small welding stations works
Cons
One of the most expensive choices
Small effective absorption distance: less than 2.4 inches
Noisier, compared to KOTTO Solder Smoke Absorber
FAQ
1) What is a weld fume extractor used for?
A weld fume extractor is used to pick up welding fumes.
2) What is a purpose of a filter in a weld fume extractor?
To capture and remove unhealthy airborne particulates of welding fume.
3) Can the filters of the fume extractors be reused?
No, they cannot. It's safer to buy a new filter and be sure that your lungs are protected from the toxic particles.
4) Do all fume extractors have an adjustable suction?
No, they do not. However, suction strength is a very important factor and it's better if it could be adjusted.
5) How often the activated carbon filters in Fume Extractor Solder, 3-in-1 Welding Smoke Absorber should be replaced?
It depends on how often the device is used. With an active usage the filters should be replaced every 4-5 months.
Conclusion
Now I realize that it was one of my big mistakes to do any soldering projects and welding without a fume extractor. Doesn't matter what you weld or sold, all metals release different contaminants to the air you breath.
Don't make the same mistake I did… Make sure you work in safe environment.
I do hope that this short review of portable fume extractors will help you to make a right choice and organize a healthy workplace.