Before starting with snap circuits, I would like to share my first steps with electricity and explain why I never ever underestimated the power of any electric circuit. And one more thing: if you don't know how to put in plain words an issue of electric circuit, go on reading.
When I was a kid, I was so curious about lots of obvious things. You won't be able to guess what was the most puzzling, mystifying and frustrating to me. Hope you won't start laughing now…
If you don't have time to read the whole article, choose the item you want:
I didn't understand how a flashlight worked. However, it seemed pretty simple. All I had to do was to move a switch or press a button, and the light came on! Yes, I loved to switch it on and off, but I hadn't got an idea why it was that way. The question that kept me up for a lot of time was what really made the light go on? Later my Dad explained that it was electricity that made the light go on. By that time, I didn't know a lot about the electricity that powered various items in our house.
My Dad told me that in case of the flashlight, the electricity to the light bulb came from the batteries that were inside. And when the electricity went through the bulb, the flashlight lit up. However, the electricity didn't simply jump from the battery to the bulb. In order to get there, the electricity had to go along a specific path. And that path is called a circuit. In a circuit, if electricity doesn't have a path to travel on, it stops. My Dad said, "Electricity is like a train on train tracks: when there's no more tracks, the train stops". As simple as that.
I have learnt that electricity flows from the power source on the path of the circuit. In most of the cases, such path is made by some kind of a wire. The circuit then leads to whatever we want to power. In the situation with the flashlight that's a light bulb. As the electricity goes through the bulb, the bulb lights up. The electricity leaves the bulb and flows back through the battery. If you look around, you will see that electric circuits are everywhere, and they are powering all kind of things around you: trucks, fridges, washing machines, phones, computers and many other home appliances that use electric power to work.
In short, when I was a kid, I learnt electronics in a classic way: I connected wires, added all the necessary components and even made my own electronic exploration kits. At that time, I could never even dare to think about other ways of getting into the world of electronics. And what do we have nowadays? Snap circuits!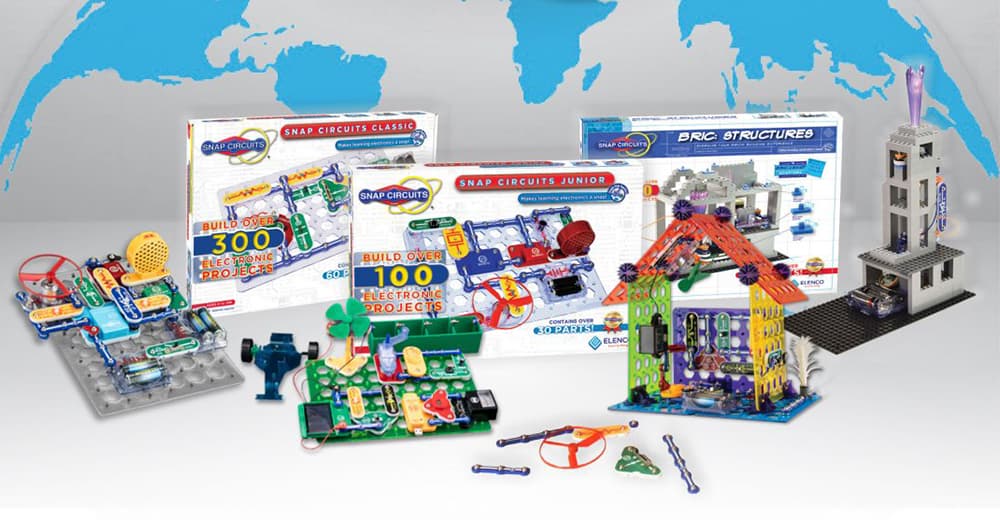 What is snap circuits?
It's a great way of learning electronics. It's a tool you would like to put your hands on and make the things happening. It's a visually attractive tool: you want to see the lights light up, or a speaker make sound, or a motor starts.
What is the purpose of snap circuits?
The main purpose of snap circuits is to allow students to learn about electronics, and snap together circuits easily, using "snap system", and without soldering. That's why snap circuits had a great success in an educational market; they had won numerous awards, and one of them was "100 Best Children's Products".
How does it work?
Each item is a circuit with snaps on it. All parts are snapped together to form a bigger circuit in order to conduct electricity from one item to the next.
What are other parts of a kit?
The other key feature of each kit is a perfectly illustrated printed book, a manual. There you can find some terrific information. Actually, I'd call it a course on electronics basics. It gives you the best short description of the electricity I've ever seen. The manual goes about specifics of light in our world, tells you about various circuits, how to combine them with other kits, and how to build hundreds of projects.
Another extremely important part is a grid. Everything is built on the easy to understand plastic grid. If you look at it, there are letters down to side A, B to G and across the top is one to three all the way to 10. The only thing you need to do is to follow the directions, find out the exact location of each item, and snap them all as it is stated in the instruction manual.
What are the advantages of the snap circuits kits?
The obvious advantage of any snap circuit kit is that it doesn't require any soldering.
You can assemble and disassemble items as many times as you want. If you make a mistake, you can take the items from the grid and start again.
You are really building circuits and you don't need to worry about wires and anything else except snapping things together.
And of course, all snap circuits are kids' friendly. It means that all the electrical components are enclosed within a plastic body. Solidly build parts are absolutely safe for a kid.
What are the types of snap circuits kits?
The main criterion to divide snap kits into several groups is skill level of the user. Nowadays there are snap circuits kits for beginners, people with intermediate skills and advanced hobbyists.
The other important thing you should bear in mind before buying any snap circuits kit is the interest of a person who is going to use it. You can find kits for those who love Robotics, lights, motion, and sounds effects, 3D illumination, green energy, and more.
Let's have a look at some of them.
Snap Circuits Kits for beginners
Snap Circuits kits for beginners are the most popular types of kits. They are aimed for young engineers, 5-8-year-old. Of course, it doesn't mean that younger kids can't use snap circuits if they show an interest and want to try, but they definitely need some guidance and assistance.
Typically, beginners' kits don't contain lots of parts. Most of them include from 10 to 14 items. However, it's more than enough to build up to 15-20 various projects such as light motor, fan, red light, sound or motion, doorbells, FM radios, alarms, recorders, horn, and more.
The most popular snap circuits kit for beginners is the one from Elenco: Snap Circuits Beginner. The kit comes with 14 parts to build over 20 various projects (more details can be found here).
Snap Circuits for Kids 8-12
Snap circuits kits aimed for a bit older kids come with the same items as other kits but they are a bit more complicated compared to absolute beginners' kits, with more parts to make more projects.
Basically, I can't say that there's a huge difference between those types of kits. I would say that they are suitable for those whose knowledge and experience with electricity and electronics is rather limited. They would serve as a perfect educational tool and great introduction to world of electricity, light and sound.
Apart from Elenco kits I would recommend to have a look at "Hand2mind", Power Snap Circuits Electricity Science Kit for Kids 8-12.
Snap Circuit Kits for Teens
If you are interested in snap circuits kits for teens, have a look at my earlier review here. I do hope you would be able to find some useful information over there. I don't want to repeat myself, just I would like to highlight that most of the Snap Circuits Jr kits allow you to build over 100 exciting projects! And an obvious bonus of them is that it's hardly possible to overgrow them: it's a long-lasting fun with a possibility to upgrade.
Compared to the beginners' kits, snap circuits kits for teens assume a deeper understanding and knowledge of basic electronic concepts; they have more parts and components, and therefore they are more difficult to use and comprehend.
Snap Circuits Kits for Adults
There are not that many snap circuits kits for adults, but, in truth, everything depends on the skill level of a person going to use it. The one who has never ever been even close to electricity could easily start with beginners' kits, basically, any of them.
More experienced users should go for Snap Circuits Jr, and later on for Snap Circuits UC-60 Electronics Exploration Upgrade Kit: Upgrade Junior to Extreme and build over 650 various projects.
Snap Circuits 3d Illumination kit
This 3D Illumination kit by Elenco allows you to create up to 160 exciting projects.  A full color manual will help you to get fun, enjoy your time, and learn about light and electricity at the same time.
Why is it called 3D? 3D is about dimensions. Using these new snap circuits modules, you would be able to build not only traditional horizontal circuits, but vertical and upside down. Among the most popular projects are a light tunnel, Break and Beam, a projector, a horn, a sensing mirror, and many others. Though the kit is recommended for 8-12 years kids, I would say that it could be used by more advanced students with their creative ideas. I would highly recommend this kit for anyone who wants and likes building cool stuff.
Snap Circuits motion, sound, and light exploration kits
Elenco Snap Circuits also offers motion, sound, and light exploration kits. Like with the other snap circuits, there's no need neither to solder nor to use any extra tools to create realistic electronic circuits and various working devices. The only thing you need to do is to snap together all the parts on the plastic grid and enjoy your time.
Each kit comes with a colored guide where all the projects are set in the order of complexity: starting with the easiest ones and gradually going to more complicated. It means that these kits can be used not only by beginners but advanced hobbyists too.
FAQ
The recommended age for beginners' kits is 5-8. Can younger kids use snap circuits?
If they show any interest in electronics, of course they can enjoy snap circuits. However, they would definitely need certain guidance and assistance.
Sometimes snap circuits kits are called "family-friendly". Why?
Snap circuits kits are indeed family friendly. It means that any family member can have fun building various projects with snap circuits.
Are all snap circuits compatible with each other?
Yes, they are. Moreover, most of them have a possibility of upgrade. But you need to be careful and check the availability of this option before buying.
Is possible to buy snap circuits replacement parts?
Yes, but they are for free. The only thing you need to do is to go to Snap Circuits Homepage, find Support and fill out the replacement parts request form.
Do Snap Circuits Kits require any knowledge of programming?
No, they do not. The only thing you need to do is to snap the items according to the diagram. Robotics kits require some basic programming, not Snap Circuit kits.
Conclusion
Based on my own experience, I can safely say that snap circuits kit is one of the most engaging and entertaining educational tools. They all encourage creativity and make sure anyone is motivated to build its own project and design.
Before buying any kit try to spend your time looking for the best product. And don't forget to consider not only skill level of a future user but his interests as well.
Hope this review is going to help you not to get lost in the variety of snap circuits kits.