Today I'm going to share my soldering experience. I've heard it from my friends million times that some of them would like to start soldering. But they have lots of fear and uncertainty about the process. And what almost of them dislike the most is the unavoidable mess related to soldering. Well, I can't but agree… However, I always invite them to my working place/soldering area in my workshop to show how different it could be.
I knew that soldering took lots of practice, and that's why I started very slowly with it, paying attention to everything and taking into consideration any details. But, given the right training and lots hands-on practice, I do it perfectly well right now. And everyone can do the same, believe me.
Today I'm going to answer some questions and share my ways of keeping the tool as clean as possible. Maybe there are better ways and I'm not saying that what I'm doing is the only correct way, but for me it's a best way giving me the best possible results.
My general rule is, "If you can get the best possible results with the most minimal amount of cleaning up, that is the best technique to use".
Below are my answers to questions I was asked.
How do you clean surfaces before soldering?
Surface preparation before soldering is called pre-cleaning. And it's an extremely important part of the soldering process. You might have heard of a flux. It is a good chemical cleaning agent used before and during the soldering process of electronic components into circuit boards. The primary purpose of the flux is to prepare the metal surfaces for soldering: flux is capable of cleaning and removing not only any oxides, but foreign matter such as oil, cutting fluids, grease, paint, and other impurities. In addition, the flux protects the metal surfaces from re-oxidation during the soldering process.
Note: If the aforementioned particles are not removed, they may inhibit proper capillary attraction during heating, and you won't be able to get a result you need.
There are two ways of cleaning: chemical and mechanical. I use both, of course, depending on the situation.
Chemical cleaning is cleaning using various solvents, alkaline cleaners, acid or so-called pickling baths.
Note: Before cleaning in a pickling bath, make sure it is compatible with the metals used. After bath it is necessary to rinse thoroughly all the parts.
Mechanical cleaning means removal of various heavy deposits with brushes or grinders using abrasive agent.
How do you clean oxidized wires?
It's a common knowledge that using oxidized wires is very dangerous. Oxidation affects a conductive core of a wire. Moreover, the copper core of the wire changes its color: it turns to black. You might have heard about black copper wire. In other words, it's an oxidized electrical wire. Change of the color results in changes of the properties and specifications of any electrical wire. There are no guarantees of the former quality (as the oxides are non-conductive, for instance). If you are going to use oxidized wires, just remember that they are very easy to break and difficult to bend. Moreover, joints from oxidized wires are difficult to link together.
In my practice I try to avoid using old wires as much as I can. But sometimes I have to use them, but without oxidation. In order to remove the oxide from the wires I do the following.
I prepare two solutions: one with table salt and vinegar, and the other one with baking soda. The second solution is used to neutralize the corrosive properties of the first one, and to further clean the wires.
I place the oxidized parts of the wires in salt and vinegar solution and leave it there for about 2-3 minutes. This time should be enough for a metal to shine. If it is not perfectly clean throughout, leave it in a bit longer.
Once the wires are shining, I remove them from the salt/vinegar solution and place into the baking soda solution for about 10-15 seconds to neutralize the corrosive properties of the acids.
Try it and I'm sure you will be happy with the results: your wires would be satisfactory clean, ready for soldering and having all their conducting properties again.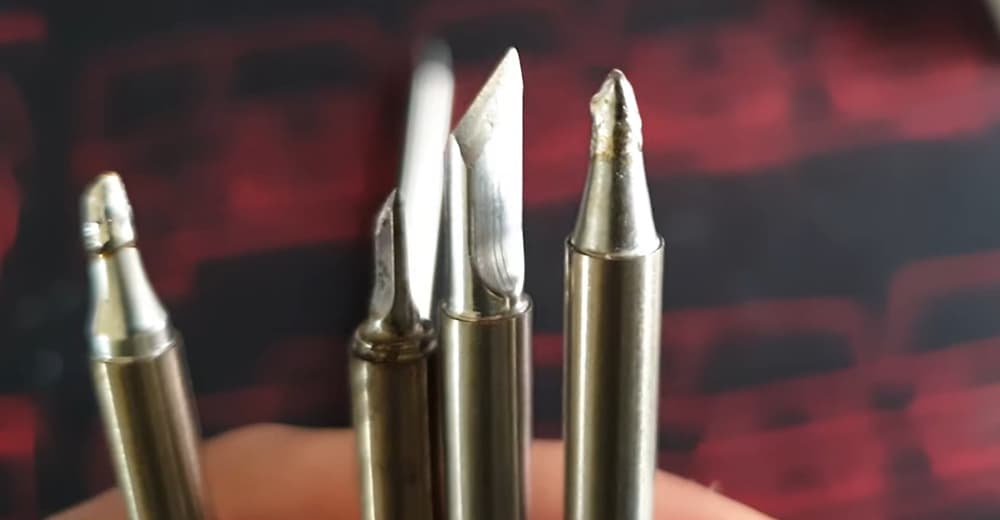 How do you clean a soldering gun?
I have almost all variations of standard replaceable soldering iron tips in my arsenal, from conical and chisel types to bevel tips. In theory, each tip is supposed to be used for its specific purpose, however in practice the most common ones that I constantly use are conical and chisel tips. I'm not saying that you should do the same, it's just a matter of habit and practice.
And doesn't matter what types of tips you use, they all get oxidized dirty after any soldering and need to be cleaned and taken care of. And here I'm going to share my ways and tips of keeping the tools in a proper and working condition… Go on reading here.
How do you care for a soldering iron?
Thinking about this post, it just crossed my mind that I hadn't had many soldering irons in my life. Two of them I inherited from my Dad, and not long ago I bought a third one – a super-duper soldering station. But, in truth, most of the time I use Dad's soldering irons. And I love them! They are in the perfect state, and you might have guessed why. Yes, exactly! They were taken good care of. Of course, the tips are new, but the irons themselves are in a perfect condition, like knew.
The most important is to care for the tip, of course, but I clean the protective tube (cover) of the soldering iron too.
When hot: I use yellow sponge damp with water to clean the hot protective tube.
When cold: I use 600 grit (or higher) sandpaper. There's don't need to remove metal, just an oxidation.
Note: Make sure the soldering iron is cold and unplugged.
How to clean clothes from solder?
If there are some solder spots on your clothes, use ethyl alcohol with/without a little acetone to clean. Well, it might take a couple of tries the first time. Don't be afraid to add a bit more if acetone: it will not harm the fabric. Try to avoid water in the mixture! Once you have most of it gone, saturate with detergent and wash.
How to clean table from solder splatters?
Yes, a table might look a bit messy after soldering. As a rule, there are little solder splatters flowed evenly over the working area. However, it isn't as bad as it looks and it's easy to clean.
Once dry, any of the solder splatters can be easily removed from the table either with the fingernail or a soft stick. Sometimes I use scrubbing pads for dishes: they also work perfectly well.
Tip: If I need to solder a lot and don't want to deal with mess after, I put either a big metal tray or an aluminum foil on my working table.
How to clean carpet from solder?
Well, that's the most unpleasant…Once dried, the only thing I can recommend here is to scrape away the soldering drops from the carpet.
But if the soldering drops are still liquid, try to get rid of them as soon as you can.
In order to protect your hands, put on a pair of impermeable rubber, nitrile, or thick latex gloves.
Take a clean paper towel or a white cloth and blot the drops. Make sure you don't rub the drops. Continue blotting up the remaining of the drops with fresh paper towels or cloths until you totally clean the carpet.
It's likely that some stains would remain. In that case you would need a professional help.
Conclusion
I do hope that these tips would help you to understand that it's not that difficult to take care of your soldering tools, keep them ready to work any time. The more you solder, the more you are getting used to the process. And when you can successfully solder one piece to another, where there's no excess solder on the surface, it gives you a minimum amount of cleaning to do. It does take practice!