Before starting writing anything about snap circuits kits for teens I would like to make it clear what is a snap circuit kit and how to use it.
What is snap circuit kit?
Snap circuit kit is a kit containing easy to snap details (parts) with electronic components inside. It is a fun and easy way to learn about electricity and electronics. You can make as many projects as the number of components and your fantasy allow you to do. Snap circuits will help you to understand the fundamentals and basics behind circuitry.
How to use span circuits kit?
The first thing you need to do is to read the instructions and check all components available in the kit. The next step is to make a lay out.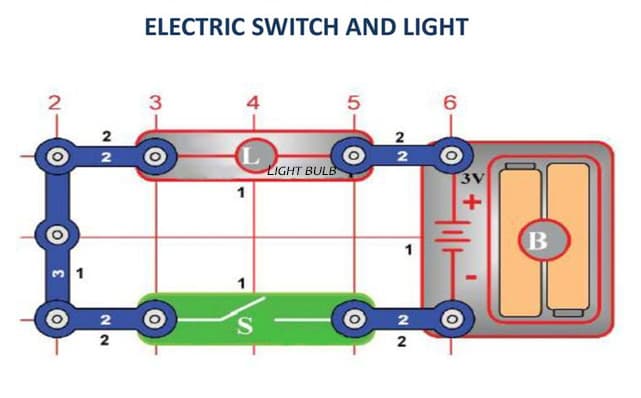 Let's assume that your snap circuit is very basic and consists of minimum parts: a tray (base), a voltage source (B), a light bulb (L) (an object that uses the electricity), some conductors (navy parts), and a slide switch (S). The tray (base) is one of the most important pieces of the kit. This is an item you are going to build all your snap circuits on. First you need to place a voltage source: just snap it into the bumps which are facing up. Next one should be the bulb: make sure you properly snap it into the tray. Now take the conductors with wires and snap both of them to the bulb and voltage source. You should get a closed circuit.
Best Choice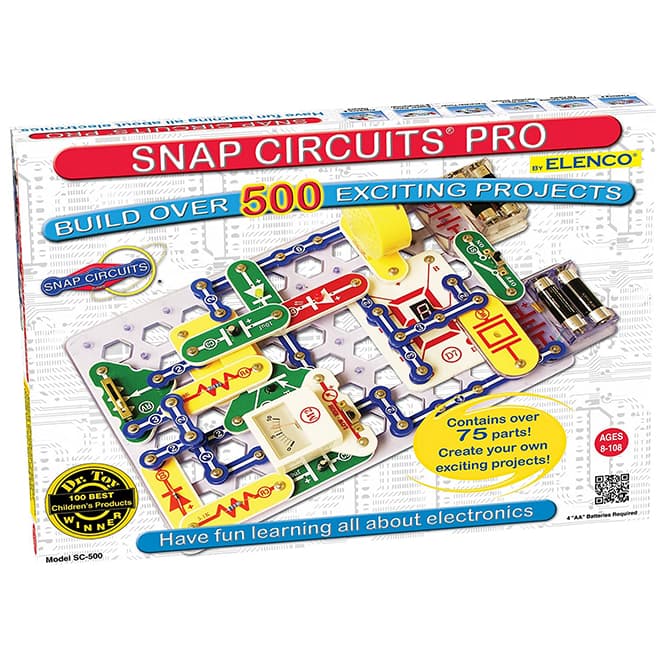 Snap Circuits Pro SC-500 Student Training Program
Best Snap Circuits Kit for Teens
Get ready for over 500 thrilling and educational Snap Circuits projects! Includes all of the SC300 projects and 200 more!
Read Verified Customer Reviews
What are the types of snap circuits kits?
The main criterion on the basis of which snap circuits kits are divided into several groups is skill level. Nowadays you can find snap circuits kits for all types of users: beginners, people with intermediate skills and advanced hobbyists.
What are the advantages of the snap circuits kits compared to other electronic kits?
The main advantage of the snap circuit kits is that they don't require any soldering. I would like to highlight this fact! If you do want to learn electronics and but try to avoid any dealings with a soldering iron, these snap circuits kits are just what you need!
I highly recommend to anyone, who would like to learn electronics and/or has already done his first steps in this field, to play with any of a snap kit in order to get further understanding of circuits, charges and more behind the world of electricity.
Best Snap Circuits Kits for Teens in October, 2023 Review
Below is my review of the most popular snap circuits kits. Let's get started!
Note: STEM stands for Science, Technology, Engineering, and Mathematics.
This electronics exploration kit contains 75+ snap circuits parts which allow you to build more than 500 projects! You would be able to assemble lots of gadgets, including digitally tuned FM radio, AM radio, digital voice recorder, AC generator, screaming fan, whistle switch and much more. Just a reminder, snap circuit kit doesn't require any soldering. It means that you won't need to use any soldering tool in order to build a workable electronic device. The only thing you would need to do is to choose circuit components you need for a particular project and snap them together.
The obvious advantage of this kit is that it's not that easy to outgrow: Full Color Project Manual, which is part of the kit, is arranged in such a way that your kid starts with very basic projects (switch on and off the bulb) and goes to various visual displays, music alarm and more. So, this kit grows with age. Having said that, I am sure that this kit would be appropriate for the users of different skill level: beginners, intermediate and advanced. They all would be able to find something satisfying to do and play with.
Note: This kit PRO SC-500 can be upgraded to Snap Circuits Extreme (SC-750) or the Snap-Micro I Standard (SCM-400). It means that you would have 80 or 100 snap circuits parts, respectively.
Recommendation: Could be a great gift! I would highly recommend it!
Pros
No soldering
No tools required
Snap technology
Possibility to upgrade the kit
Great way to design various circuits and experiment
Long-lasting fun
Good quality product
Easy-to-follow instructions
Worth the price
Cons
The kit requires four AA batteries (they are not included into the package).
This kit features innovative bric-2-snap technology. What does that mean? It means that you can combine snap circuits with building bricks to create amazing combinations of construction and circuitry. With bricks and snap circuits, you can build lights, sounds, moving parts, and 3-D Circuits.
The kit comes with 20 Snap Circuits parts, 75 bric-2-snap adapters, over 140 compatible building bricks, and a full-color, easy-to-read project manual.
Note: The kit allows to build endless quantity of projects as Snap Circuits BRIC is totally compatible with Lego! You can combine it with all your Lego compatible bricks. This kit is a perfect combination of Legos and Electronics. And let me assure you that your kid would discover an endless world of creative fun with this Snap Circuits BRIC!
Pros
Compatible with Lego
Good quality and sturdy components
Good value for money
Fun and educational: perfect STEM activity
Endless ideas
As I've already mentioned, best part of most of the snap circuits kits is the possibility of their upgrade: you can take them to the next level. This one will allow you to upgrade from Junior kit to Extreme. It means that with 52 new parts you would be able to build over 650 projects!  The kit features AM radio components, transistors, ICs, capacitors, resistors, recorders, a meter CI-73 Computer Interface, a solar panel, and more.
Pros
No soldering
No tools required
Snap technology
Possibility to upgrade the kit to SC-750
Easy way to learn electronics
Good quality product
Easy-to-follow instructions
Worth the price
Cons
Some users complain about missing CD-ROM that was supposed to arrive with the kit.
Even though this post is about snap circuits kits for teens, don't ignore this kit. I would highly recommend it for absolute beginners in electronics and those who never ever got close to any of the snap circuits! It is an educational kit and a perfect introduction to the basic of electronics. Just turn a blind eye to the age stated in box… I'm kidding of course, however, the kit is really good enough to go for it.
The kit contains 14 parts only, however, they are enough to build more than 20 different projects! The instructions are clear and easy to follow. Having said that, I just would like to say that snap circuits by Elenco are super safe and kids-friendly. It means that all the electrical components are enclosed within the plastic body.
Note: This kit might be a perfect gift. Just telling you from my personal experience. I gave it as a gift to a 6-year old son of my neighbors. And I was not sure that the guy would be able to handle it alone. But I was mistaken… He built all the combinations possible and started drawing his own diagrams! I can't tell you how happy I was.
Pros
Well-designed introduction to lights/sounds/electricity
Perfect starter kit for a good price
Detailed, kid-friendly and clear step-by-step instructions
No soldering required
Problem solving toy
Good quality material
Easy to use
Cons
There are some complaints from the users that the beeping sound is way too loud.
This «Arcade» building kit has only 30 snap parts, however, with them you would be able to accomplish over 200 projects!
The kit is an extremely easy to use. As in other snap circuit kits, base project gird is made of plastic and functions like a printed circuit board, and each component has a different color and its own purpose. All modules are connected via a male/female snap. It's a great STEM activity: perfect way to introduce and learn electronics!
Recommendation: I would highly recommend this educational kit for a beginner!
Pros
Great way to learn the basics of electricity, circuitry, and engineering
No soldering required
No programming involved
«Snap» method of making circuits
Good quality, durable components
Good value for money
Detailed and easy-to-use manual
Cons
There was a complaint that a LED board didn't work properly.
Snap Circuits Kits for Teens – FAQ
What type of projects «snap»-circuit technology allows to build?
With «snap»-circuit technology you can build lots of exiting projects: FM radios, digital voice, recorders, AM radios, burglar alarms, doorbells, and much more! And no tools are required: everything you need is included in the kit (apart from the batteries).
Does a snap circuit kit require any programming?
No, a snap circuit kit doesn't require any programming. It doesn't require soldering either.
Can I find a snap circuits kit for an advanced level?
Yes, you can. Or you can also find an upgrade for an existing kit (provided you have one) to build more projects.
Is it possible to upgrade any snap circuits kit?
No, not all the kits are possible to upgrade. That's why before purchasing any snap circuit kit, read the description of the kit and make sure you are buying the one, you would be able to upgrade later.
Is Snap Circuits BRIC compatible with Snap Circuits Jr kit by Elenco?
Yes, Elenco's Snap Circuits Jr kit is compatible with Snap Circuits BRIC and Lego. So, you can combine the two systems and Lego for more fun.
Snap Circuits Kits for Teens – Conclusion
If you want your kid to learn electronics and avoid soldering, go for «snap»-circuit technology. It's an extremely easy and fun way to build an enormous number of projects. I would recommend you to have a look at Elenco products. This manufacturer offers various series of snap products.
They differ in the number of parts included and the number of projects you can make using them. All of the them are of a prefect quality, easy to built and fun to use. And if your kid is a Lego fan, have a more detailed look at Snap Circuits BRIC and Snap Circuits Jr by Elenco: both of them are compatible with Lego.