Switch, in its basic form, does nothing more than open and close electrical circuits. When the switch closes the circuit, it allows electrical circuit to flow from point A to point B. When that happens and we have a closed circuit in a switch, we call it a pole.  Switches are used to make or break connections and electrical current. They can be used to connect a load to a power supply, or send signals within a circuit.
A pole is the number of the closed independent circuits, that the switch controls. Thus, a single-pole switch can control only one separate circuit. When we have two closed separate circuits at the same time, we call it double pole.
The other part of this definition is the number of throws for a switch. When you look at the basic switch, like a push-button switch, for instance, it has to do with the position the actuator is in. Typically, in push-button switches there are two positions: non-actuated position and actuated position.
Throw is the number of positions in which a given pole is closed. Or, in another words, throw is the number of connections that can be made within a single pole. Single throw switches can only make one connection, which is between its two contacts. If an additional contact is added, the switch has two throws.
If you don't install the USB port, due to the small size, our module can be integrated into various devices as an access point via WiFi for control over the network and via the Internet.
Knowing poles and throws would help you to choose the right device for your application.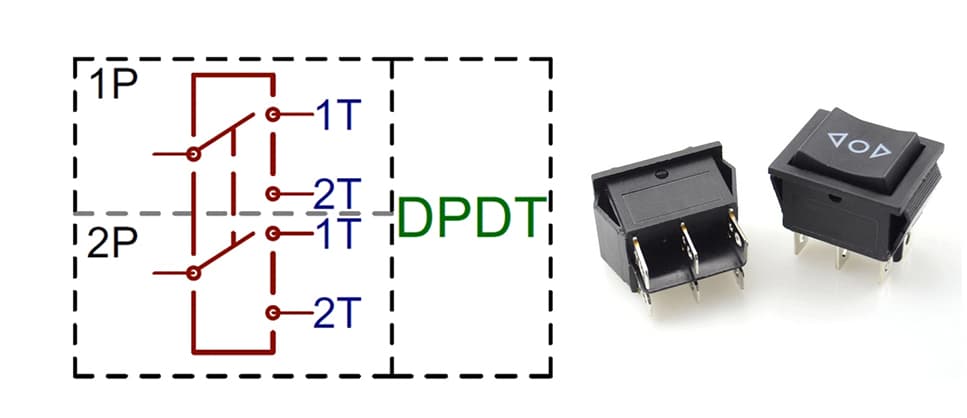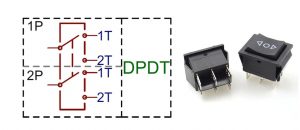 Another most common device is double pole, double throw switch.
Let's assume that we have a hairdryer with high and low speed.
This switch is a standard 3-positions rocker. If the switch is off, the hairdryer is off. If you actuate the switch to one of the positions, it turns on the heating element and closes the circuit that turns on the fan of the hairdryer in a low-performance mode.
If you actuate the switch to another position, it turns on the heating element and closes the circuit that turns on the fan of the hairdryer in a high-performance mode.
Since it's a double pole switch, you can close two poles at the same time, and there are two positions when those circuits are closed: the low performance mode and a high-performance mode.