As I have already mentioned in one of my reviews of the soldering projects kits, if you are looking for an absolute beginner kit, don't waste your money and try to buy the cheapest one. You never know what is going to happen in the future. However, there are two options: either you love it and go on soldering and having fun with lots of various DIY projects, or you realize that it is not yours and lose any interest in soldering.
And don't get offended, just believe me: I've seen a lot of both. Those who started with the simplest kits and really enjoyed the process, had lots of fun and hours of soldering practice. And after getting a feel of it (with basic kits for beginners), they knew exactly what they needed and bought really good and sophisticated stuff for themselves after.
Best Choice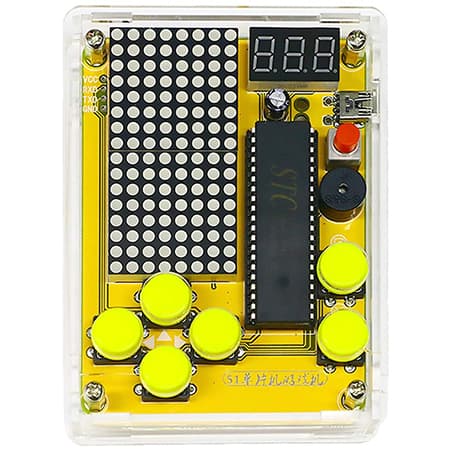 ECUDIS Soldering Kit
Best Soldering Kit for Beginners
Electronic Soldering Kit with 5 Retro Classic Games and Acrylic Case, Idea for STEM High School Family Education Friends by Etoput.
Read Verified Customer Reviews
And whose who lost interest in soldering either totally forgot about their soldering kits and let them gathering dust or threw away.
Of course, it's up to you what you are buying, but I would recommend you to start with the most simple and primitive kits for beginners. If you are doing your first steps in soldering and don't have any experience, have a look at the soldering kits which will help you to learn basic soldering techniques. Start with those named "Learn to Solder Kits"! Basically, these solder kits have all components available (including ones for practice too) plus a lesson manual and video instruction.
Most beginner solder project kit are not expensive: you can easily find within 20-50 dollars budget (here is my review of  "10 cool solder project kits under 50 dollars" where you can read about beginner solder kits as well.
Let's get started!
9 Best Soldering Project Kits for Beginners in 2021 Review



Learn to Solder Kit Hue by Rocket Department

PERFECT FOR BEGINNERS - Specifically designed for people with no prior soldering experience
For ages 12 and up
Includes the required CR2032 battery to turn it on