Yes, electronic soldering kits for adults, it's not a mistake. This article would be about soldering kits for adults. This idea came to me after I met my old buddy. Knowing about my interest and experience in electronics, he asked if it was possible to buy any solder project kits for adults.
Well, he is not a total newbie in soldering, however, he was a bit ashamed to buy children's stuff. You know, all these fun projects for kids. Truth be told, I've never ever divided soldering kits by this criterion, but now I'm going to. Hope you will find it useful, at least some people will.
Let's get started!
Being an adult does not necessarily mean having years of experience in soldering. The different stages of life make us grow and change, and it's quite normal to develop different interests. Maybe being 10-12 years old, you didn't have a single thought of soldering, and now, once you are older, you would like to make your first steps. It's never too late to start!
If you have never ever even touched a soldering iron, of course you should start with the beginners' kits. To a general idea, you can read my review 9 Best Soldering Project Kits for Beginners. Of course, it would be better, if you start with "Learn to Solder Kits"!
Basically, these solder kits have all components available (including ones for practice too) plus a lesson manual and video instruction which are really helpful.
After you have mastered soldering technique, you can go further and try to assemble some simple kits. Let's have a look at a few of them. Below are some practical ideas: at least you would be able to use the goods or gave them as gifts!
If you like the Solder Project Kits, take a look at my full review
Best Electronic Soldering Kits for Adults in October, 2023 Review
In case you want to practice with genuine Arduino Uno Rev3 board, this kit is for you. It might be a good introduction in the exiting world of further Arduino projects.
This kit requires soldering and comes up with over 190 electronic parts and components. A breadboard, a holder, USB cable, jumper wires, LEDs, DC motor, and detailed 72-page color Instruction Manual are also part of the kit.
This project will teach you how to build LEDs and program them blinking. You will learn how to built a small circuit on a breadboard using a relay and go on with other Arduino projects.
The kit is aimed for intermediate hobbyists who want to learn Arduino.
I can assure you that this Christmas tree DIY solder project kit is definitely for adults-beginners! The end result is that you would improve your soldering skills and knowledge of electronics, and have a nice seasonal decoration of your own house or a Christmas gift to any of your friends. Sounds great, doesn't it?
As this kit doesn't come with any tools, you would need a set of standard soldering equipment (a soldering iron, solder wire, sponge, etc.) to assemble this Christmas tree. The tree comes in three different options (3 colors, 7 colors, or multicolored), and you can have a nice set of three flashing trees, for instance, and place them in different parts of your house.
And more, the tree is not only flashing, it can read the mp3 music in TF card, Sd card and thumb driver. You can listen to the Christmas songs and sing them too!
Note, that no paper instructions come with the kit. You will need to download PDF User Manual.
If you are looking for something practical (not a decoration), go for this burglar alarm soldering kit by Elenko. When done, you will have a real alarm to safeguard your stuff and control your room or a house, a car or a bike. And it's loud enough to startle a burglar!
This electronic-star shaped soldering project kit is another good idea for a DIY beginner. You may find it challenging and enjoyable. It is a fun and not that difficult to build, however, you should have some basic skills. You should be familiar with the electronic parts (diodes included), and should know to identify cathode and anode of a LED.
This DIY soldering kit might be both: a nice present and a seasonal decoration. The kit comes with 50 (5mm) colorful flashing LED diodes which form the star shape. It features pre-marked electronic components name and large solder joint: that's why soldering and assembly process would be easier for you accomplish. The design is pretty simple, but it's a great chance of a leaning something new and a good soldering practice.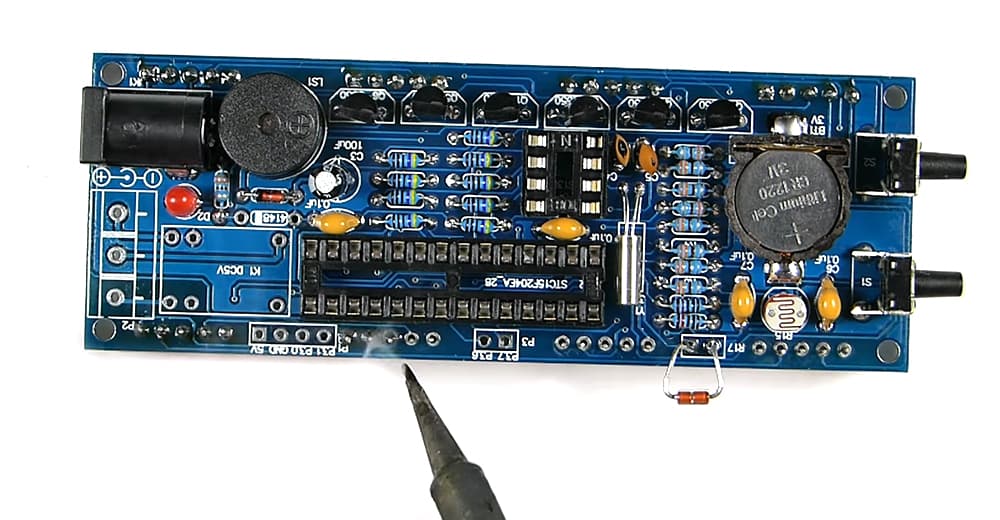 To make the start flashing and rotating through all the colors, you will need all the tools required for practicing: soldering iron, iron stand, tweezers, multimeter, pliers, screwdriver set, solder wire, clean sponge, soldering magnifier. And note that complete User Manual you can find on the Amazon page (they are in "Technical Information" section), it's not included in the package.
However, if you still have doubts and not yet sure whether you would like it and go on with soldering, don't spend a lot of money on your first projects. Not long ago I posted a review 10 cool solder project kits under 50 dollars. I do hope it will be of help and give you some money-saving ideas.
And some more tips: If you want to work with high-quality products, go for the soldering kits of the well-known manufacturers, Elenco and Velleman, for instance. Working on their soldering projects, you can be assured that once done, everything would work.
To get more information about the solder projects of these manufacturers, you may check my reviews: "9 Popular Velleman Solder Project Kits" and "9 Popular Elenco Solder Project Kits". In case you have the same passion (as I do) for the radio kits, read my Best Radio Kits to Buy Online in 2020 Professional Review.
If you have a long-time experience in building various electronic projects, I would recommend you to continue with these serious kits to improve and refine your skills. Below are some challenging projects that might be of your interest.
With Gearwoo 4-Digital DIY Clock Kit you are going to have a nice digital clock displaying not only time, but temperature, date and day too. You would be able to select any mode for the temperature (°C/°F) and time (12H/24H). There some other handy function too: alarm, hourly chime, and adjustable brightness of the display (the display automatically goes brighter during day and darker at night). The set comes with the schematic step-by-step instructions, illustrations of some component positioning and brief operating instructions.
It's a cool project for intermediate enthusiasts.
If you haven't got a digital multimeter yet, go for this kit and assemble this useful tool yourself. Once finished, you would be able to test diodes and transistors, overload protection, capacitance to 200µF, and probably a multimeter to carry with your car tools, for instance. The Kid is aimed for intermediate users and comes with rubber holster, tilt stand, safety input sockets and test leads. It requires soldering and assembly.
This electronic transparent stereo speaker kit by Gikfun might be an interesting project for music fans. It's a nice way to practice improve your soldering and electronic skills and have a nice stereo speaker box after completion. The kit comes with all the nuts, screws and electronic components to do the project. A detailed User Manual is part of the kit too.
The kit is ideal for hobbyists interested in the music tool projects (for intermediate level).
If you really want to have a challenging project, don't ignore this extremely well designed and manufactured robotic arm kit! You will have a chance to program and have a neat new tool. This robotic arm is able to grab various items in any directions and you can control all the movements from mobile phone application. The robotic arm features digital servo with high torque and high-temperature resistant.
The kit is ideal for those, who study robotics or hardware engineering.
This is a challenging project for experienced hobbyists. The robot features a special microprocessor, enabling it to make its own decisions based on processed information about its surroundings and help it to find his way in any maze-like environments and around obstacles. Two sets of special legs which are designed differently, allow for absolutely unrepeated movements. All in all, it comes with 86 pieces and requires soldering.
To make this robot send and receive signals, detect various obstacles, you will need to assemble three infrared emitting diodes and one infrared receiving module.
This kit features an ELEGOO UNO R3 controller board (Arduino-Compatible). It also comes with all the electronic components required for accomplishing of most of the robotic tasks. This robotics functional kit is supposed to be used with other mechanical kits. If you want to gain a new robotic experience and complete a challenging project, say YES to this kit.
Conclusion
As you can see, electronic soldering kits for adults do exist! You just need to take your time and pick up the project according to your level of expertise. Hope this review was helpful to make the right choice. Good luck!