Speed LE RJ45 RS232 port 8pin example
Speed LE RJ45 10pin
| | | | | |
| --- | --- | --- | --- | --- |
| 10Pin | 8Pin | Circuit | | Function |
| 1 |   | RI | Input | Ring Indicator |
| 2 | 1 | DCD | Input | Data Carrier Detect |
| 3 | 2 | DTR | Output | Data Terminal Ready |
| 4 | 3 | DSR | Input | Data Set Ready |
| 5 | 4 | S/GND | | Signal Ground |
| 6 | 5 | TXD | Output | Transmit Data |
| 7 | 6 | RXD | Input | Receive Data |
| 8 | 7 | RTS | Output | Request To Send |
| 9 | 8 | CTS | Input | Clear To Send |
| 10 | | N/C | – | Not connected |
RJ45 8pin Loopback cable
| | | |
| --- | --- | --- |
| DCD | 1 |    |
| DTR | 2 |     | |
| DSR | 3 |     | |
| TXD | 5 |    |
| RXD | 6 |     | |
| RTS | 7 |    |
| CTS | 8 |     | |
The following pinout examples are based on an 8pin RJ45 connector and can be applied to all Speed RJ45 ports.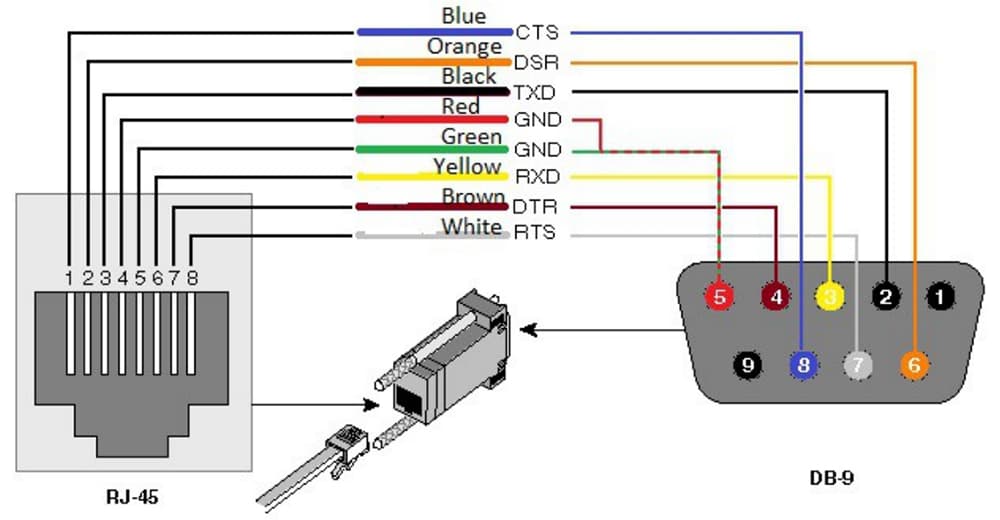 Terminal and Printer connections
RJ45 (8pin) terminal or printer cable configuration
For standard terminal operating at slow speeds or using software flow control. a simple 3-pin connection can be used.
RJ45                              DB25
S/GND   4  ———————  7      GND
TXD      5 ——————–> 3     RXD
RXD      6 <——————– 2     TXD
RJ45 (8pin) to DB25 (DTE) terminal or printer cable supporting hardware flow control
RJ45
DB25

DTR

2

———————>

6

DSR

DSR
3
<———————
20
DTR
S/GND
4
———————–
7
S/GND
TXD
5
———————>
2
RXD
RXD
6
<———————
3
TXD
RTS
7
———————>
5
CTS
CTS
8
<———————
4
RTS
RJ45 (8pin) to DB25 (DTE) printer cable using DTR flow
RJ45                              DB25
| | | |
| --- | --- | --- |
| DSR | 3 <——————— 20 | DTR |
| S/GND | 4 ———————– 7 | S/GND |
| TXD | 5 ———————> 2 | RXD |
| RXD | 6 <——————— 3 | TXD |
RJ45 (8pin) to DB9 (DTE) PC Com Port configuration
RJ45                              DB9 Com Port
| | | | | |
| --- | --- | --- | --- | --- |
| DTR | 2 | ———————> | 6 | DSR |
| DSR | 3 | <——————— | 4 | DTR |
| S/GND | 4 | ———————– | 5 | S/GND |
| TXD | 5 | ———————> | 2 | RXD |
| RXD | 6 | <——————— | 3 | TXD |
| RTS | 7 | ———————> | 8 | CTS |
| CTS | 8 | <——————— | 7 | RTS |
Modem connections
 RJ45 (8pin) to DB25 (DCE) modem cable
RJ45                              DB25 M/F
| | | | | |
| --- | --- | --- | --- | --- |
| DCD | 1 | <——————— | 8 | DCD |
| DTR | 2 | ———————> | 20 | DTR |
| DSR | 3 | <——————— | 6 | DSR |
| S/GND | 4 | ———————– | 7 | S/GND |
| TXD | 5 | ———————> | 3 | TXD |
| RXD | 6 | <——————— | 2 | RXD |
| RTS | 7 | ———————> | 4 | RTS |
| CTS | 8 | <——————— | 5 | CTS |
RJ45 (10pin) to DB25 (DCE) modem cable
RJ45                              DB25 M/F
| | | | | |
| --- | --- | --- | --- | --- |
| RI | 1 | <——————— | 22 | RI |
| DCD | 2 | <——————— | 8 | DCD |
| DTR | 3 | ———————> | 20 | DTR |
| DSR | 4 | <——————— | 6 | DSR |
| S/GND | 5 | ———————– | 7 | S/GND |
| TXD | 6 | ———————> | 3 | TXD |
| RXD | 7 | <——————— | 2 | RXD |
| RTS | 8 | ———————> | 4 | RTS |
| CTS | 9 | <——————— | 5 | CTS |
| CTS | 8 | <——————— | 7 | RTS |
RJ45 (8pin) to DB9 (DCE) modem configuration
RJ45                                     DB9 M/F
| | | | | |
| --- | --- | --- | --- | --- |
| DCD | 1 | <——————— | 1 | DCD |
| DTR | 2 | ———————> | 4 | DTR |
| DSR | 3 | <——————— | 6 | DSR |
| S/GND | 4 | ———————– | 5 | S/GND |
| TXD | 5 | ———————> | 3 | TXD |
| RXD | 6 | <——————— | 2 | RXD |
| RTS | 7 | ———————> | 7 | RTS |
| CTS | 8 | <——————— | 8 | CTS |